Kim Hyun Joong & Jung So Min Expound on Playful Kiss's Shooting Difficulties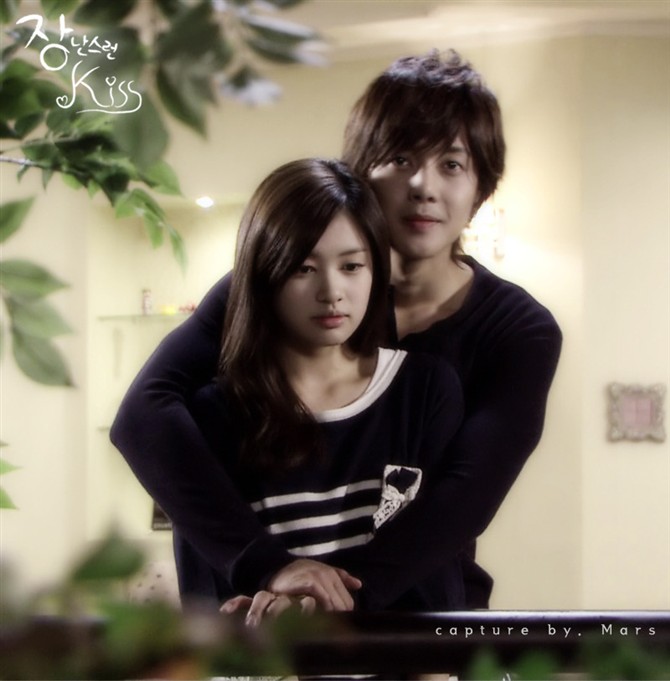 Kim Hyun Joong & Joong So Min
Talked About Taiwan Fan Meeting & the difficulties of shooting the kiss scenes:
News Courtesy by udn + (eng trans) kelemama@501wangja.multiply.com
Kim Hyun Joong
who had just created a big commotion at Japan Haneda Airport recently, will be coming to Taiwan with
Jung So Min
on 26 Dec for promoting of Korean version of
'Playful Kiss'
and fanmeeting, during a recent interview
Kim Hyun Joong
revealed, the deepest impression he had during the filming was the shitty smell near the filming site, female lead
Jung So Min
also revealed, when filming kissing scene with
Kim Hyun Joong
, was so nervous till tummy ache, having indigestion, in the end had to
'release blood'
, and hurried on with the filming.
Kim Hyun Joong
laughingly said, as the filming site was situated at the suburban, there's a pig farm nearby, thus the surrounding air is always filled with shitty smell, but the crew said, don't look down on this film site, even
'Dae Jang Geum'
came here for filming too, upon hearing senior
Lee Young Ae
was here for filming before, he became more respectful.
Female lead
Jung So Min
when knowing that the male lead was
Kim Hyun Joong
before the shooting, when shooting kiss scene, both were very awkward, both promised to get the scene done in just one shooting, but just after saying this,
Jung So Min
was so nervous that she had indigestion, causing tummy ache and kept having NG, she laughingly said, she had never confessed to any boy even until now, but after acting in this role, next time when she like a boy, she also wants to be like the
Oh Ha Ni
in the drama and make her confession, hope she can get married before 30, and wants to have 2 kids.
---
Permissions in this forum:
You
cannot
reply to topics in this forum